United States Magistrate Judge for the District of Connecticut
Judge Martinez retired from service as a full-time U.S. Magistrate Judge on October 4, 2019. She now serves part time as a recalled judge. Judge Martinez continues to work on a variety of matters, including mediation. Counsel are welcome to inquire about availability by contacting her courtroom deputy or the Hartford Clerk's Office.
Staff Information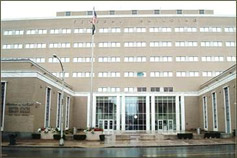 ABRAHAM RIBICOFF FEDERAL BUILDING
United States Courthouse
450 Main Street
Hartford, Connecticut 06103
What is a Magistrate Judge?